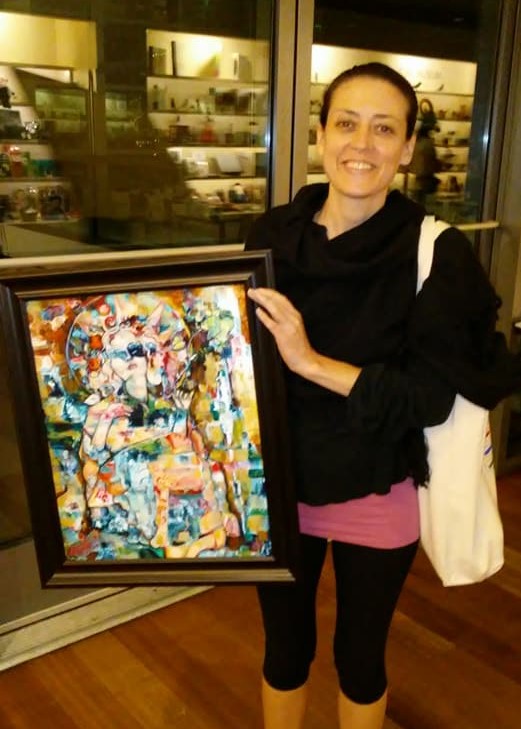 Cameron Art Museum 2017
For State of the Art Installment

Follow me on Instagram and Facebook for all my latest endeavors!
Carrie Joy Byrnes has been creating and selling original oil paintings, acrylics and mixed media artwork since 2003. Her artwork has been sold throughout the U.S. and internationally. She currently is held in several boutique galleries within the U.S. and also has collections at large upscale online galleries such as Wayfair and Marmont Hill. Byrnes also participates in several juried art shows throughout the year.
Her personal style infuses an art that encompasses wide ranging subjects from traditional landscapes and portraits to more mystical and abstract subject matter, all in her own unique voice. Mediums are limitless. Enjoying adventure in the creative journey; paint, pastels, fibers, mediums, plaster, encaustics and fire applications are just some of the techniques she uses to create. Carrie Joy is primarily self-taught through years of work and study of the masters which appears in her artwork as a strong influence. She has furthered her art education through courses at NYU and the Fashion Institute of Technology in New York City. She holds a Bachelors of Liberal Arts in English Literature from Queens College, City University of New York.
Originally from New York City, Carrie Joy has lived in North Carolina since 2008 and now resides and paints in Wilmington, N.C.
Artist's note: I know it can be a leap of faith to purchase art from an independent artist which is why I am including all my personal contact info here:
Cell # 910- 200-9283
Email: carriebyrnes@ymail.com
Please feel free to contact me with any questions regarding purchasing artwork.
I have been selling online and locally for over 20 years now.